There are so many items a payer needs to purchase for a successful gameplay, and learning each store's location and the wares it sells becomes a big part of daily routine in Stash RPG.
Askagard Market Stalls
[
]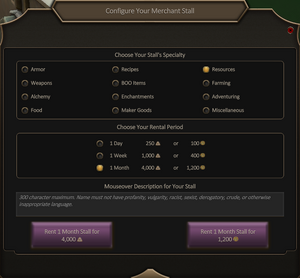 You can rent a stall in Askagard which will advertise your stall in the market place.
This kind of stall can be rented to further advertise your BOO Stall to players who are shopping in the city. The market stall is located near the Rolling Stone Inn, and several NPC vendors are gathered around the market, thus making it a crowded place. Many players come there to purchase foods and it is not unusual that they can occasionally click the stalls and take a look at your goods. Rental price can be as low as 4000 triads per month. You can optionally rent it with medallions.

.
---
Player-run Stalls
[
]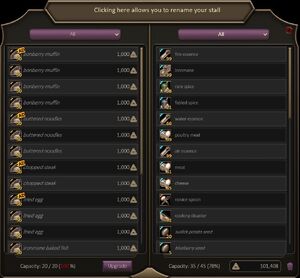 Every player has a stall in the Base of Operations. This is where players sell items to one another.
Your stall items are on the left and your stash is on the right. You need to place items in your stash before you can add them to your stall.
---
Sales tax
[
]
There is a 10% tax levy per item sold.
Right clicking on an item in the stall will give you the option to remove or place an advertisement.
Removing your the stall is free every hour then costs either medallions or 35% of the items sale price.
---
Advertising
[
]
Advertising an item can be done every 5 minutes for free then 100 medallions there after. Advertised items show up in the Newspaper.
You can advertise your whole stall in the Newspaper by buying a custom advertisement within the Newspaper. Further instructions and options are shown in-game.
---
NPC vendors' list
[
]
Note: not all vendors offer the same buying prices when you sell junk. One of them only offers 50%*item value while the others offer 75%.
Milawe
[
]
"
Originally an apprentice baker from a seaside village, Milawe moved with her family to Askagard when she was in her early teens. SHe expanded her culinary skills in various shops until she opened her own.

Her diverse menu allows her to cater to all the different races that inhabit Askagard.

"
Milawe is a merchant in Askagard.
Wares for sale
[
]
Roklaf
[
]

"
Roklaf, also known as "The Rok" to most of the town, is perpetually cheerful, happy, and energetic. He may not be the shrewdest of lukoi, but he more than makes up for it in his positive attitude. People tend to trust him.

Thus, Rok probably has the most up-to-date gossip in town.

"
Roklaf is a merchant in Askagard.
Wares for sale
[
]
Thraka
[
]
"
Large, gray, and happy to converse with just about anyone, Thraka spends most of his time in his store. Many think he first opened shop just to find more people to talk to throughout the day.

Thraka is known for his good deals and myriad stock of weapons and armor.

"
Thraka is a merchant in Askagard.
Wares for sale
[
]
Tybalta
[
]

| | | |
| --- | --- | --- |
| " | Young, fun-loving, and slightly off-beat, Tybalta lives to laugh and laughs about everything. Nothing gets her down, and she turns even the most mundane chore into a fun task (at least in her mind), and she's got a use for just about every piece of useless junk out there. | " |
Tybalta is a merchant in Askagard.
Wares for sale
[
]
Verkosh
[
]

"
Verkosh has a skin condition hidden beneath his thick brown fur that causes him to scratch his ear and head constantly. Needless to say, he's irritable on his good days and downright mean on his bad days.

His one joy and source of happiness in life is his fascinating for farming and farming tools.

"
Verkosh is a merchant in Askagard. You can find him in the middle of the garden to the west side of the fourth level of the city.
Wares for sale
[
]
Zieri
[
]
"
This sweet catfolk doesn't say much, but her inquisitive nature shows itself in her large, curious eyes. Her quiet demeanor often makes some of the rougher crowd try to take advantage of her, but she has a very deep pocket of allies. Some say she's friends with the greatest leaders of the realm. Who knows? She keeps her mouth closed about it.

What is most certainly known, however, is that for anyone intending to become a crafter of some sort, her stall should be one of the first stops. She carries just the right tools to get any beginner on their way to becoming a master.

"
Zieri is a merchant in Askagard.
Wares for sale
[
]