Slimy Slemor
style="display:none"
Details
Type:
Mount
Level:
30
Value:
300000

Sold at the Medallion Shop for 6000 medallions or 300000 triads, this mount gives no speed difference (100%).
Needed to enter swamps, it requires level 30 to ride.
When purchased, it first goes to your rewards (inventory>character>rewards). Drag from there to your inventory then double-click to equip.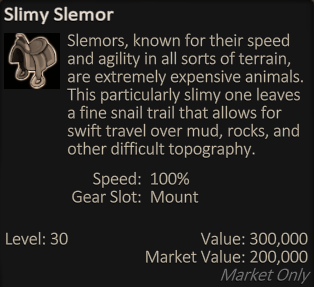 See also
[
]